"There is a time for everything and a season
for every activity under heaven."
Ecclesiastes 3:1
Mary paints with a fresh new style where she is the one who decides what to paint and how she wants to convey this in her paintings. Here she chose to use spring colors to express the season. She designed the grass to direct attention to the boy fishing
A Time for Everything Card 7" x 5"
Scripture printed inside (large print)
Heavy Cardstock Paper includes envelope
$1.50 each plus $1.00 shipping

---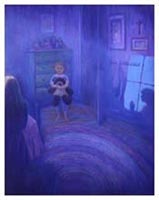 "Therefore anyone who humbles himself as this little child,
is the greatest in the kingdom of heaven."
Matthew 18:4
Reflection of Prayer Card 5" x 7"
Scripture printed inside (large print)
Heavy Cardstock Paper includes envelope
$1.50 each plus $1.00 shipping

---

"For where two or three come together in my name, there am I with them." Matthew 18:20
Acrylic on Board
In this painting Jesus is painted in the middle of a prayer gathering to remind us of what He said in Matthew 18:20. Mary wanted express the importance of Christians gathering together to pray and worship God. Many people suffer persecution for their faith in Christ and don't have the freedom we do in America to meet together for prayer and reading the Word of God.

Mary has the people meeting downstairs in a basement to remind us of this. We might not always have the freedom to worship out in the open, there is no guarantee. What God allowed to happen to the Israelites because of their unfaithfulness could happen to us.

"Pray in the Spirit on all occasions with all kinds of prayers and requests. With this in mind, be alert and always keep on praying for all the saints." Ephesians 6:18

The people praying are in different clothing, of different nationalities, young, old, women and men. Some are kneeling some are standing to show that it's not the color, how you're dressed or position you're in that impresses God but your heart.

"And let us consider one another in order to stir up love and good works, not forsaking the assembling of ourselves together as is the manner of some, but exhorting one another, and so much more as you see the Day approaching." Hebrews 10:24,25

You will notice that there are no shoes on those praying this is a reminder that where the Lord is, is holy ground. In Exodus 3:5 God tells Moses to take off his sandals, for you are standing is holy ground.
---

"If the Son therefore shall make you free, you shall be free indeed." John 8:36
Acrylic on Board
This painting is about God's love and a sinner who realizes he needs a Savior, Jesus to come into his life. There is no place that God is not present and there is nothing hidden from His sight but all lay open and naked before Him to whom we must give an account.

"If I ascend into heaven, you are there; If I made my bed in hell, behold you are there." Psalm 139:8

Mary painted the shadow of prison bars to represent the prisons we are held in as a result of sin, the key represents the way to freedom from sin, which is found in one way and that way is through the Son of God, Jesus Christ. When God sets us free He gives us a new life, clean and forgiven. Through our Savior who bought us with His redeeming blood we have eternal life with God and can know real peace, joy, love, kindness, goodness, faithfulness, gentleness, longsuffering, self-control because we're not alone…"Behold I stand at the door and knock. If anyone hears My voice and opens the door, I will come in to him and dine with him, and he with Me." Revelations 3:20
---

"Let the words of Christ, in all their richness, live in your hearts and make you wise. Use His words to teach and counsel each other. Sing psalms and hymns and spiritual songs to God with thankful hearts."
Colossians 3:16

Pastel
17" x 20"

In this pastel Mary wanted to show the love for God and His word. She placed the children around their mother to show their interest in God, His promises and His will for them as she reads from the bible. Her choice of colors and strokes express the beauty she sees in the faces of the children. Each with his or hers own unique features.
---


Oil on Canvas
20" x 16"
"For Anyone who calls on the name of the Lord will be saved. But how can they call on Him to save them unless they believe in Him? And how can they believe in Him if they have never heard about Him? And how can they hear about Him unless someone tells them." Romans 10:13,14

This painting was composed from pictures a Christian brother brought back from a missionary trip he went on. She wanted to draw attention to the one reading to the children from the Bible and also to the children surrounding him. All people, everyone, everywhere is loved by God and it is His desire that all come to know Him and has chosen to use us who believe, to spread the good news.

"You are the light of the world. A city that is set on a hill cannot be hidden. Nor do they light a lamp and put it under a basket, but on a lamp stand, and it gives light to all who are in the house."

Matthew 5:14,15

Mary's desire was to illustrate the hunger for the truth in the children's faces.

It is so easy to ignore the needs both spiritual and physical of those outside our homes.

Jesus commanded us to love one another, the question is how much do we love others.
---
---

For more information on Inspirational, Religious, or Portrait paintings, prints or cards, contact Mary at:
Tel: 530-475-0373
Email: maryan@spiritualart.com

Please remember that all art is protected under United States Copyright law, by the individual artist and/or their agent(s). No images or text may be downloaded, transferred or stored on any electronic retrieval system or otherwise.
Other Inspirational Links

GOSHEN has an extensive search engine, daily devotionals, free online Bible study tools, Christian message boards, free classified ads, and daily religion news coverage of church-state issues, revival, religious freedom and persecution, evangelism, and missions.
Another excellent Christian search is Best of the Christian Web.